Printing 101
Baby Steps To Print Purchasing Know How
The Printing Crash Course - Printing School
What is Screen/Silkscreen Printing?
A Screen is a medium that has holes. In printing, for the purposes of detail, control and stability of image, the screen must be of a very small opening. The best form of a screen is derived in silk. Fine silk is stretched on a rectangular wooden or metal frame to form a screen base for screen printing.
A photographic solution is applied to the screen frame, and then an image is exposed to the frame. The printing image that is projected onto the screen is burned off, and therefore washed off the screen.
When ink is squeezed through the holes (image areas) on the screen to a sheet of paper or other material, it is imaged with the ink color in the screen frame.
The inks in this process are extremely slow to dry, and can take hours to be ready to receive the next color for multicolored images.
The inks for silk screen printing are almost always opaque, as opposed to the other processes of print. Therefore special care is given to overlapping colors so that it will give the desired effect when the job is complete. Transparent inks are used only on jobs that require the effect of mixing when printed.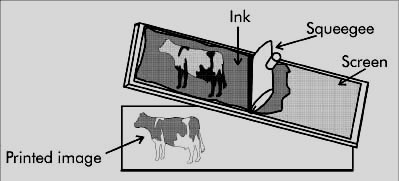 The quality of this process is definitely not appropriate for producing cheap brochures, sell sheets, flyers, leaflets, business cards, post cards, etc., as it is a very slow and time consuming process and is used for specific special purposes only.