Printing 101
Baby Steps To Print Purchasing Know How
The Printing Crash Course - Printing School
What Is Offset Lithography?
Lithography is the process of imaging from a flat surface. Offset is the process of imaging one surface, and then offsetting the image to the paper. Combined, Offset Lithography is the process of achieving a printed image from a flat surface, once printed on an intermediate medium, and then transferred to the paper.
This process is vastly different from letterpress (Raised Image), Flexography (Raised flexible image), Gravure (engraved image), Silk Screen (Pores on a Silk Screen) printing - The image and the non image are flat and the inked image is formed from the basic principal that ink and water do not mix. Ink being an oil base and water are opposites.
The image on the litho stone or flat surface (modern printing plate) is achieved through a photographic or digital means. The ink receptive areas are treated chemically to attract oil based inks, whereas the non image areas are chemically treated to receive water (or non oil based liquids).
The printing process is cyclic where the plate receives a fine film of water followed by a fine film of ink before the water has the time to evaporate. The image is then transferred to a rubber transfer material commonly called a "Blanket" which takes up the inked areas onto its surface. The blanket further deposits the image to the paper, and the cycle repeats for the next sheet.
The process is most common in the printing world, and this process is used by Printoutlet to produce cheap brochures, sell sheets, flyers, leaflets, business cards and post cards.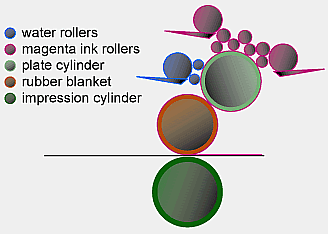 To produce cheap printing for Brochures, Sell Sheets, Flyers, Leaflets, Business Cards, Post Cards etc., this process proves to be very efficient, and fast. Although this process is ideal for the printing of cheap full four color business cards, post cards, inserts, sell sheets, posters, flyers, leaflets, brochures and other full color printing, the faster and cheaper process for larger quantities will definately be the web printing processes.